---
INTERNATIONAL NEUROPSYCHOLOGICAL SYMPOSIUM
Vietri sul Mare ITALY (Province of Salerno) JUNE 25-29, 2019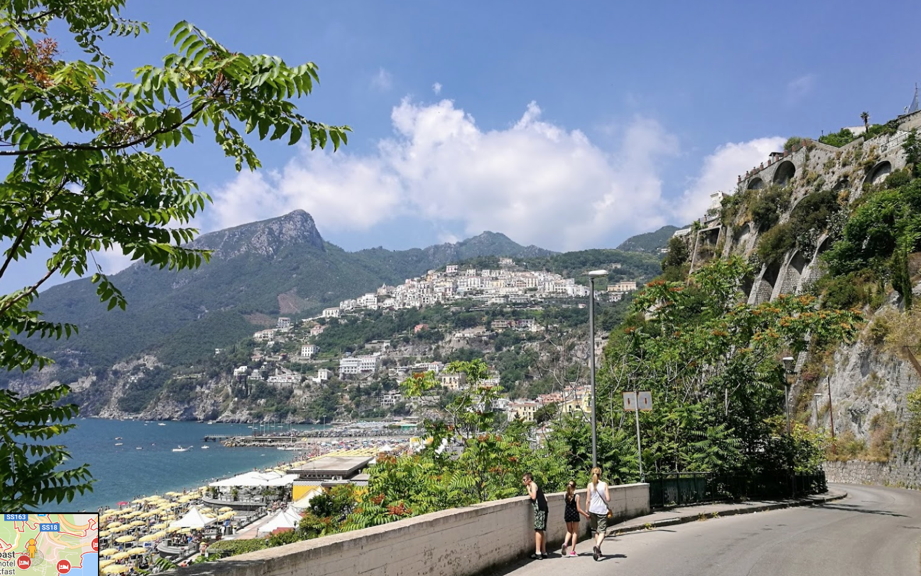 (Local Organizers and INS Chair).

---

The town (elevation: 80 m, 260 ft) is known for its polychrome
ceramics, a local tradition since the 15th century, and is considered
to be the gateway to the Amalfi Coast. The quarter by the sea, named
Marina di Vietri, is located to the south of the town.

Registered participants (as of 15 June 2019)

Program (as of 15 June, 2019)
The local organizers are Luigi Trojano and Dario Grossi, with the help of
Dorothea Weniger.
TOPICS
Perceptual and cognitive plasticity across the lifespan (9 speakers, organized by Huxlin, Morrone & Sur)
Session 1: Development


Michela Fagiolini (Harvard, USA): Inhibitory processes during development and in brain disorders.
John Foxe (Rochester, USA): Endophenotypic markers in childhood neuropsychiatric diseases.
Mriganka Sur (MIT, USA): Mechanisms of plasticity in developing brain circuits - animal models.

Session 2: Spontaneous plasticity in normal and pathological states


Duje Tadin (Rochester, USA): Visual plasticity associated with lifespan, disease and individual differences
Concetta Morrone (UNI PI, Italy): Neural plasticity of the visual brain in infants and in adults
Holly Bridge (Oxford, UK): Visual pathways and plasticity in adult hemianopia and anophthalmia.

Session 3: Intervention-induced plasticity and broader contexts


Ione Fine (U. Washington, USA): Cortical reorganization due to blindness: Does architecture determine function?
Krystel Huxlin (Rochester, USA): Early versus late training-induced recovery in hemianopia - dynamics and limits of plasticity post-damage.
Friedhelm Hummel (EPFL, Switzerland): Brain stimulation to alter and study mechanisms of reorganization and recovery after focal brain lesions.
Deep learning and the brain (6 speakers, organized by Thorpe, Freedman & Plaut)
The brain's brake: Inhibitory mechanisms in cognition and action (8 speakers, organized by Chelazzi, di Pellegrino & Bartolomeo)
Session 1 (Friday Morning)


Alberto Bacci (Paris France) "Inhibitory control of cortical microcircuits"
Birte Forstmann (Amsterdam Netherlands) "The anatomo-functional role of the subthalamic nucleus in strategic decision-making"
Nico Böhler (Ghent University, Belgium) "A wider view on response inhibition: attention, motivation, and trigger failures"

Session 2 (Friday Afternoon)


Ruth Krebs (Ghent Belgium) "Should I stay or should I go: Exploring reward-triggered response biases"
Antonino Vallesi (Padova Italy) "Hemispheric gradients of executive functioning beyond cognitive inhibition"

Session 3 (Saturday Morning)


Joy Geng (UC Davis USA) "Active and passive sources of information in distractor ignoring"
Michael Anderson (Cambridge UK) "A Supramodal Inhibitory Control Mechanism Underlies the Stopping of Actions and Thoughts"
Marie Banich (Boulder USA) "Inhibitory control over information in working memory"
---
Recent changes
01 July 2018 - Announce Venue
14 July 2018 - Topics
15 July - Details about the town and travel recommendations
12 November 2018 - Speakers for all three Topics
21 January - add links to Web pages in Lifespan topic
26 January - Registration information and Hotel Booking Information
11 March 2019 - add sharing options and list of registered participants
17 March 2019 - one TBD speaker in Brain's Brake topic
29 March 2019 - new speaker for Deep Brain topic and
removed reference to GIF in the pw-protected folder which
was bothering Firefox
31 May 2019 - Updated Registered Attendees and added reference to
Vietry FB page.
02 June 2019 - Reinstate Nominations page for pw-protected pages
03 June 3, 2019 - add titles for Inhibition Topic
05 June 2019 - complete titles for deep learning session
15 June 2019 - update Registered participants and add link to Program
20 June - add travel information and refer to possible airline strike on Monday June 24